Footsteps Pre-School Playgroup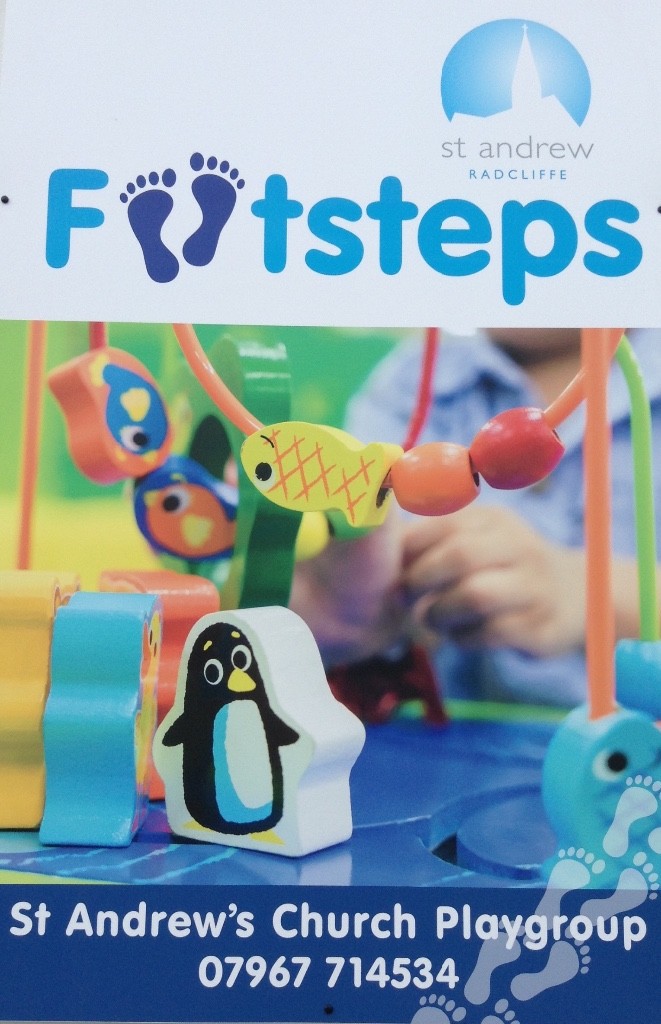 'Footsteps' St Andrew's Church Pre-school Playgroup is run by the church for the community and is located within St Andrew's CE VA Praimary School grounds. As choosing the right Pre-School for your child can be one of the most difficult decisions a parent makes in their child's early years, please do come and visit us, you will be most welcome.

We hold a GOOD Ofsted rating inspected under the new inspection framework. We are members of the Pre-School Learning Alliance (PSLA) and the National Day Nurseries Associaiton (NDNA).

Footsteps caters for children between the ages of 2 and 4 years & 11 months. The playgroup caters for up to 24 children per session. The different sessions are staffed by 8 fully trained staff, 7 of whom hold appropriate early years qualifications at level 3. All staff are qualified in paediatric first aid.
Bury Council's Golden Apple Award Scheme (Gold Award)
Brush Bus tooth brushing scheme.
Food Hygiene Rating (5)

We are open during school terms times from:
8am - 4.35pm: Monday- Thursday
8am - 1.35pm: Friday
Main Session timings, without before or after school care, are:
Morning Mon-Fri: 9am -12 noon
Afternoon Mon - Thurs: 12.35-3.35pm
We offer full day care - Children bring their own healthy packed lunch.
Table of costs

Amount

Cost Type

£16.50

Per 3 hour session

£37.50

Per day

£6.00

Before School 8am to 9am

£6.00

After School 3.35pm to 4.35pm
The Early Years Foundation Stage (EYFS) sets standards for the learning, development and care of children from birth to 5 years old. All schools and Ofsted-registered early years providers must follow the EYFS, including childminders, preschools, nurseries and school reception classes.
Aims of Footsteps
To enhance the development and education of children in a calm, safe, caring and stimulating environment.
We encourage the children's development and progress by offering a curriculum based around the Early Years Foundation Stage leading towards the Early Years Goals set down by the Government.
Current Newsletter Previous Newsletter
Term Times and Holidays 2018/2019
Current Ofsted Report Letter Re: Ofsted Report
For more information, or to check places, please contact
Karen Ramsay Tel: 07967 714534
footstepsstandrewschurch@gmail.com