More History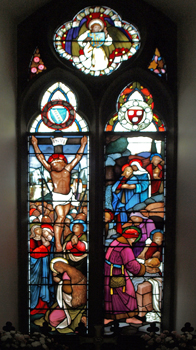 In the early years of the church building gifts were donated to enhance the internal appearance.
A set of stained glass windows was placed at the East end of the building at a cost of £500. These represent the trial, passion and crucifixion of Jesus. They were donated by Mrs Wild, Mrs Horton and Mr H Hall in memory of their mother, Mrs Lawrence Hall.
A 'tracker' organ by Conacher with three manuals was added at a cost of £600. This was extensively rebuilt by the makers in 1935 who converted it to electo-pneumatic.
The brass lecturn was given in memory of Mr Lawrence Hall. A new pulplit was donated in memory of Mr James Whittaker - a former churchwarden. These were both given by Mrs Starkie.
Other history seems shrouded in the mists of time. If anyone has any other information please contact us so we can update these pages. Thanks